The following are sample questions to test whether you know, understand, and are able to apply your learning from this chapter.
1. A common process to create mailing labels or marketing materials combining Excel and Word is:
a) Charts
b) Macros
c) Mail Merge
d) PivotTables
e) Templates
2. The fastest way to create mailing labels is through using the built-in:
a) PivotTable
b) Script
c) Warlock
d) Wizard
3. This function removes all spaces from text except for single spaces between words.
a) CONCATENATE
b) CLEAN
c) TRIM
d) VALUE
4. This function capitalizes the first letter in a text string and any other letters in text that follow any character other than a letter. Converts all other letters to lowercase letters.
a) CAPITAL
b) LOWER
c) PROPER
d) UPPER
5. Which function produces C10 from B10?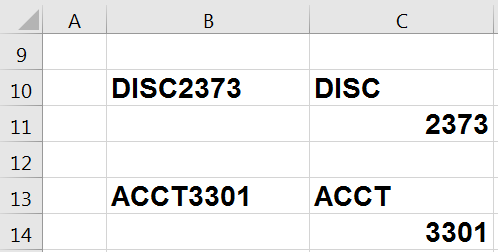 a) LEFT
b) RIGHT
c) MID
d) EXTRACT
6. Which function produces C11 from B10?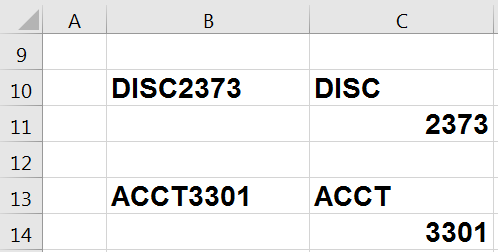 a) LEFT
b) RIGHT
c) MID
d) EXTRACT
7. The second argument in the MID function specifies where the extraction should start.
TRUE/FALSE
8. =CONCATENATE(TRIM(B3)," ",TRIM(B4)," ",TRIM(B5)) does what?
a) Merges cells B3, B4, B5
b) Clears spaces from B3, B4, B5
c) Extracts characters from B3, B4, B5
d) Chops up B3, B4, B5
e) Both a and b
f) Both c and d
g) Both a and d
9. If an Excel chart is linked into a Word document, what file(s) must be transferred in order for another person to work with the information completely?
a) Word document file only
b) Excel spreadsheet file only
c) Both the Word document and Excel spreadsheet files
d) Neither the Word document or the Excel spreadsheet file
10. What happens when a standard copy/paste procedure is used to insert an Excel chart into a Word document?
a) it creates a table in Word which can only be revised using Word capabilities
b) it creates a separate object in Word which can only be revised by double-clicking and opening Excel capabilities
c) it causes updates in one location to update the other location
d) it creates a permanent link between the spreadsheet and the document
e) all of the above
---
Solutions:
1c, 2d, 3c, 4c, 5a, 6b, 7TRUE, 8e, 9c, 10a
---
you can also test your knowledge of the functions using the quizlet below.
https://quizlet.com/414448350/flashcards/embed?i=24veoc&x=1jj1
---
ATTRIBUTION
Practice problems by Emese Felvégi & Kathy Cossick based on chapter contents and chapter practice.  CC BY-NC-SA 3.0.