43

Ruoxin Xu 許若心

Anonymous
Ruoxin Xu, 若心 許, also referred to as Raw Xu, is changing beauty standards for China's beauty magazines. Her name Ruoxin, means assuming intelligence, heart, soul or mind. She is a published, plus sized model in China.
She was born in Zhejiang, but did most of  her business dealings in Beijing. Ruoxin Xu graduated from the Central Academy of Fine Arts in China. From there, she began doing freelance modeling gigs. She was on many covers of different magazines and even featured in a social media campaign for a Scandinavian brand named Ganni. Raw Xu found her way on the cover of March 2022 Vogue China which is a top feature for beauty models.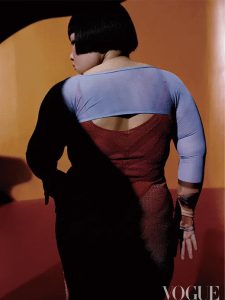 She is pushing body positivity heavily in China since being thin has been a beauty trend in China for a long time in recent years. She wants to see women of all sizes expressing their fashion and beauty. She is 5 foot 4 inches and 396 pounds at 22 years old. She had been overweight almost her entire life. The last time she was at a weight not considered obese was when she was under the age of 7 years old. She followed in the footsteps of her father and grandmother who are all, also, obese. She made a short film called "fatty meat" that showed all her rolls of fat while laying on a pink sofa, while in school.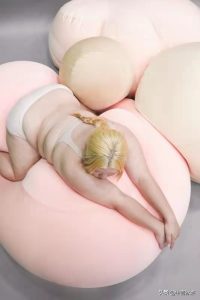 She allowed all her skinny friends to touch her belly and made another exhibition called "touching my belly". As she was doing this, her confidence grew tremendously. She became comfortable in her own skin behind the camera. She wrote a book called "the story of me and flesh" where she interviews and photographs fat people that are supposed to be comfortable in their skin, half naked. She is an important figure in the body positivity media in China right now. Her importance is because of her changing the view on what is accepted as far as body shapes in the fashion industry and social acceptance.
Sources
Mui, C. (2022, August 17). Chinese plus-size model Xu Ruoxuan is promoting body positivity in both modelling and art. Tatler Asia. Retrieved February 20, 2023, from https://www.tatlerasia.com/style/fashion/model-of-diversity-raw-xu
Zhenzi , Q. (2023, February 20). The 180-jin girl graduated and exhibited herself. Ask someone to touch her belly. She has had enough of the sin of being fat. She wants to make peace with the fat. Inf.news/en. Retrieved from https://inf.news/en/featured/3acb78b1b7b70fda4358961595397a79.html
Media Attributions
DB652F25-0903-42AD-9148-255935F5F2BF
3145C1AA-556C-4152-93E3-42A0446D71AA