48

Watermelon-eating people (吃瓜群眾)

Hannah R
simplified Chinese: 吃瓜群眾; pinyin: chī guā qún zhòng
Definition
Literally means "people eating watermelon"; figuratively means people on Internet forums who don't know the facts of the topic or those who don't care what is being discussed. Since 2016, people started to call these passive spectators "watermelon-eating people." Being unaware of a fact is a rather neutral meaning but netizens often use the term for those who gossip about matters that don't affect them. This term has gained enough recognition to be included in the list of top 10 buzzwords of 2016 posted by the entertainment magazine Yaowen Jiaozi.
There is no concrete origin for this term. A popular belief is that it came from a 2016 roadside interview in which a reporter questioned an elder bystander who witnessed a fatal traffic accident. The witness told the reporter: 'I don't know anything. I was eating a watermelon." Another origin comes from a Weibo post of a watermelon exploding from the heat on a supermarket shelf in Shenyang, Liaoning province. Netizens remarked, "". The term "瓜" is used as a pun of the Chinese word for gossip, 卦, since both are pronounced "gua". One more speculation suggests that the term comes from a fifth to third-century BCE book titled Book of Rites, which describes how different classes of people enjoy eating melons: people of higher social status enjoyed the peeled melon covered with a fine cloth, whereas the ordinary masses must peel off the skin and eat it along the rind—thus never uncovering the appearance of the melon inside.
This popular term became the book title of Liu Zhenyun's . The title is inspired by a popular internet meme that is used when people are indifferent to what's happening around them. Liu is a China contemporary writer who addresses the startling apathy of internet vigilantes. He provides an extreme example of this indifference in the novel when Yang Kaituo, head of the provincial highway authority bureau, is caught smiling at cameras while inspecting a major bridge collapse. Therefore, his novel suggests that watermelon eaters are not only indifferent to the current issues but also find enjoyment in them.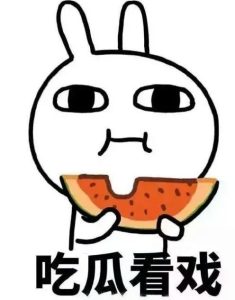 Examples
1.)
每个新闻都会有很多吃瓜群众围观。
There will be many onlookers behind every piece of news.
2.)
A: 你对白百合出轨怎么看?
What do you think of Bai Baihe having an extra-marital affair?
B: 我没什么看法,我只是一个吃瓜群众。
Nothing. I am just a watermelon eater.
Citations
Allie. "Watermelon Eater." Medium, MeetMandarin, 22 Dec. 2017, https://medium.com/@meetmandarin/watermelon-eater-dfefa4f20b2b.
Zhang (张文捷) Wenjie. "Using Chinese Watermelon Slang to Discuss Celebrity Scandals." The World of Chinese, 2 Aug. 2021, https://www.theworldofchinese.com/2021/08/tasty-melons-for-a-fallen-star/.
"English Translation of Liu Zhenyun's Bestseller 'Children of the Melon Eating Age' 吃瓜时代的儿女们." CAMBRIA PRESS Blog, 13 Jan. 2022, https://cambriapressblog.com/2021/12/13/english-translation-of-liu-zhenyuns-bestseller-children-of-the-melon-eating-age-%E5%90%83%E7%93%9C%E6%97%B6%E4%BB%A3%E7%9A%84%E5%84%BF%E5%A5%B3%E4%BB%AC/.
Media Attributions
Pinyin: Bié chīguā le, guā dōu tù le. English translation: Stop gossiping, even the melon threw up.
Simplified Chinese: 吃瓜时代的儿女们; pinyin: Chi gua shidai de ernumen